Big 'Red Power' Door Steals the Show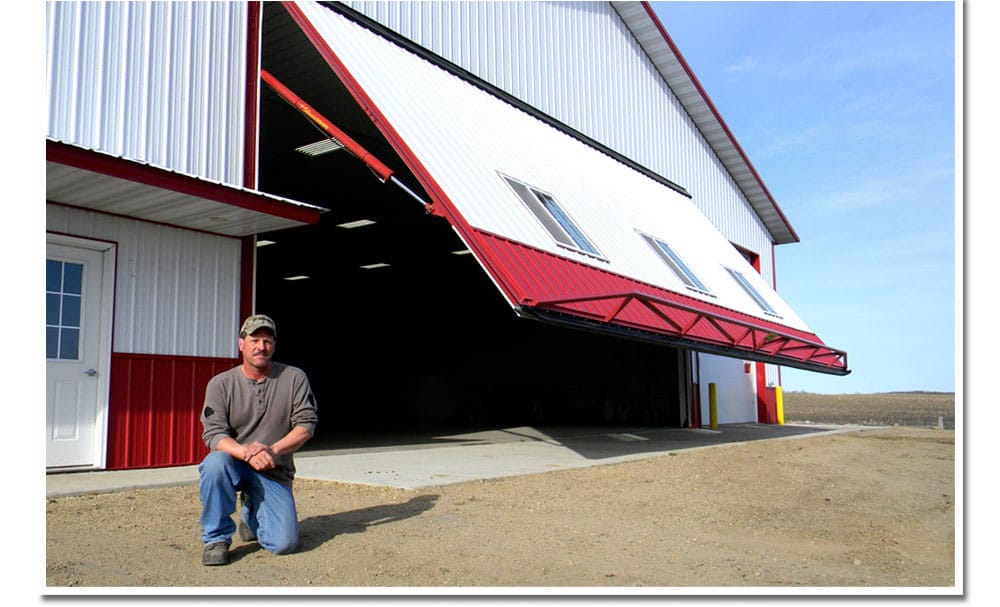 6 April 2012, Schneider Farms New Farm Shop
"When I pushed the button and the whole wall opened up, everyone was just amazed." That's Dean Schneider, New Ulm, MN crop and livestock farmer talking about a charity event hosted in their new 80′ x 84′ farm shop which features a 40′ x 18′ Schweiss hydraulic door installed on the south wall of the huge structure.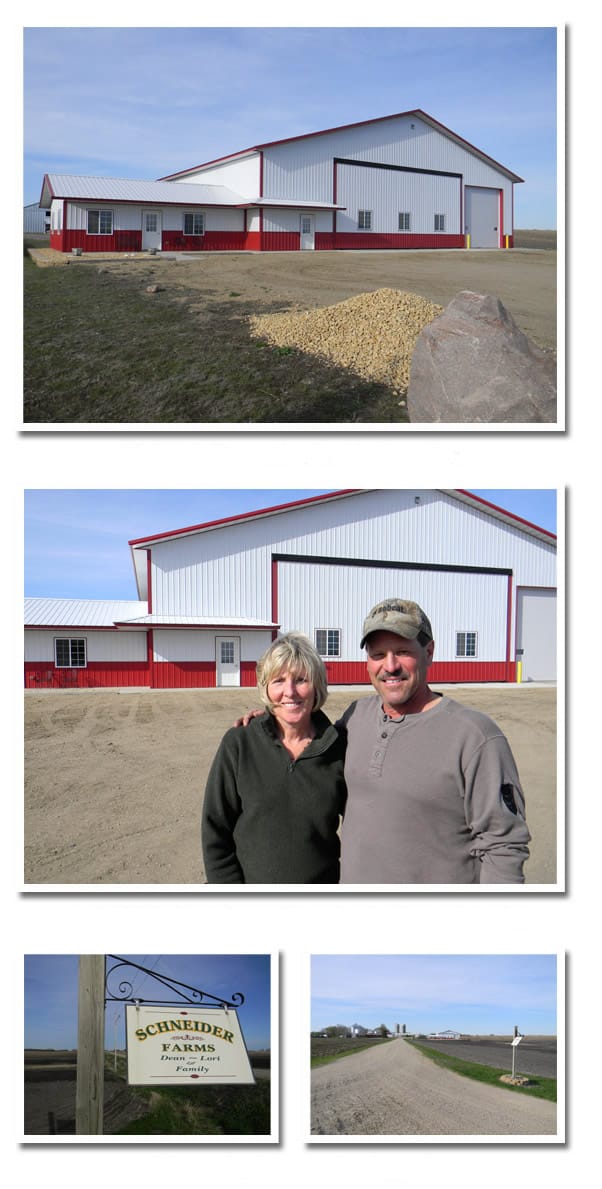 This eye catching farm shop is indeed a beautiful facility. All four exterior steel walls are white however red is the accent color around the edges of this big hydraulic door, all windows in the door, plus there are other access doors into this incredible building.
Was the new shop and color trim ever an issue? Wife Lori said absolutely not. "I've told Dean for years that he should build a new shop. Our farm equipment is big; he and our sons take great care of the equipment so a better facility just seemed in order," she related.
Added Dean, "We did some touring checking out other farm shops so we pretty much knew what we wanted. Plus our son Chad, 27, has his own construction company (North Star Builders, New Ulm) and he helped with the layout and actual construction. So this was very much a family project all the way."
The Schneider family includes four sons, Ross, 17, Jeff, 23, Matt, 26 and Chad plus daughter Megan, age 14. And because this was a family project, the new structure has several special features including a 24′ x 32′ office and 'breakroom' area.
"The breakroom space is great. It gives some special room for visitors and space for our crews during harvest. Plus we needed an office to get some of the bookwork of our operation out of the house. So a neat bathroom also got added, plus a utility room housing all the geothermal hookups," said Dean.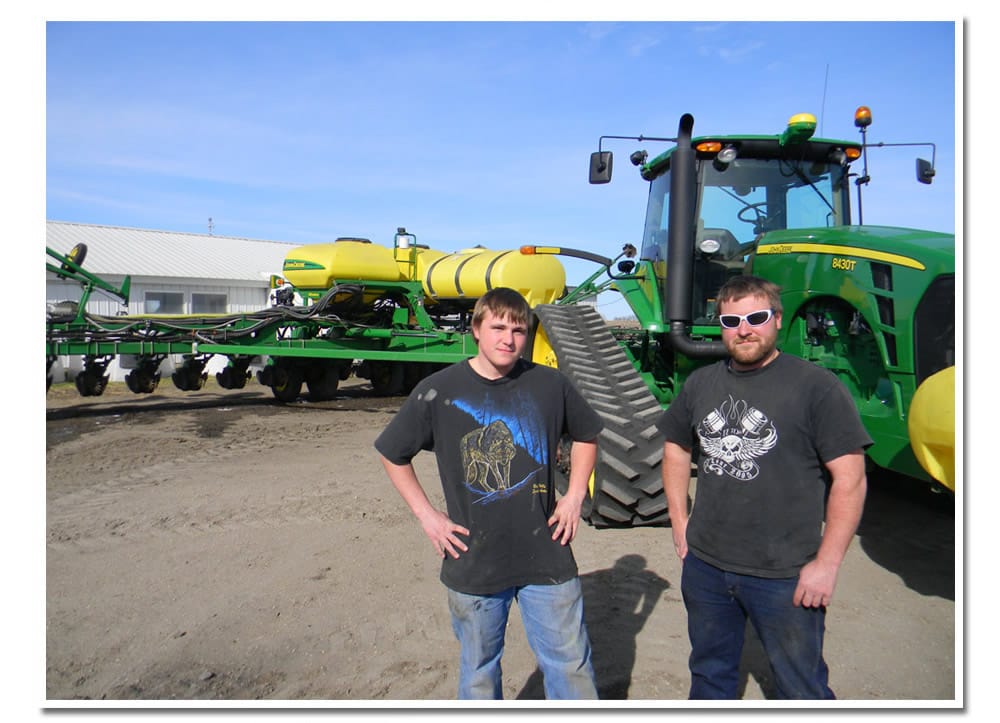 Dean's Sons. . . You need a large shop with a big door to work on today's large equipment
Why the big Schweiss door?
"Because of the local connection," said Dean adding, "We see the Schweiss operation often because it's only about 40 minutes from our farm. So if there were any issues with the door, we knew we could rely on the Schweiss crew for quick service. Our only choice really was to we do Schweiss Bifold, or Schweiss Hydraulic?


"We did check out a hydraulic door firm further west in Minnesota but the Schweiss door just looked better to us. Better design, stronger construction, heavier cylinders and frankly easier people to work with," related Schneider.
So why the hydraulic choice? Esthetically appealing might be the word from an architect. Dean simply said, "It's a cleaner, less busy look. It really complimented the total interior look of our shop, plus it was easy to insulate."
And delivery of the Schweiss door was right on schedule when needed. "Plus they told my son exactly what dimensions were needed for the doorframe. When my son fitted the door into the opening it was flawless; just a perfect fit and that's something when you're dealing with a space that big." Plus that's the neat part about dealing with someone locally said Dean.
The red accent color was a mutual choice of both Lori and Dean. Lori said their farmstead already had a 'reddish theme'. That breakroom even features an elevated cocktail table encircled with three bar stools. Social 'break in' for the Schneider's new facility was last April when they hosted a fundraiser for upgrading a nearby baseball field being dressed up into a 'field of dreams' landscape. Dean estimates about 300 people attended and said everyone was totally impressed with the new building.
But what they really wanted to see was the opening of that huge hydraulic door. "Everyone was amazed. They had never seen a structure where the entire wall opened up. That just blew people away," chuckled Dean.
What's ahead for this new country 'social center' which incidentally is also an extremely convenient farm shop? Ross graduates next year so Lori is already thinking about his graduation reception in the farm shop. Perhaps a future event might be a wedding anniversary celebration of the Schneider's.
Dean admits however that his new shop has already become sort of the neighborhood gathering place for morning coffee; and even an occasional 'happy hour' after work gathering. In essence already this is their own 'field of dreams' since the theme of 'if you build it, they will come 'certainly seems to be flourishing.

Large, fancy windows within the moving hydraulic door frame provide extra light!
Some special features of the shop space:
Wash areas alongside both the east and north walls with slight slope of concrete floor into 50′ long catch basins.
Several electrical outlets along both these two walls for conveniently hookup of power washer unit.
Floor heating under the entire shop floor covered with 8″ of concrete; 10″ of concrete floor for the two wash basin areas which their semi trucks can access from both sides of the building or drive in from the west side and drive out the south roller door.
Geothermal heat supplied by a system of 12 runs of piping buried 9′ deep.
An 18′ high ceiling with 20, high-intensity lighting fixtures built into the ceiling.
Blanket insulation in all walls plus 20″ of cellular spray foam in the ceiling.
Summed up Dean, "We're just totally pleased with the structure.
And yes, that Schweiss hydraulic door I'd have to say is perhaps the highlight of this entire structure."
Related Links:
Hydraulic Doors
Bifold Doors
Farm Doors
Back to schweissdoors.com