For Plane Lovers . . . (Part 4 of a 14 part series)
Schweiss Doors Help Dreams Come True
This helicopter pilot took the extra step to fulfill what many had dreamed of for years. He is just one of a few of Schweiss bifold and hydraulic door customers, and Schweiss Doors had a part in making his dream come true.
The 4-Star Carriage House on the lakeshore property near Cornelius, North Carolina is very likely the most unique in America! It doesn't house horses and horse buggies. It doesn't house antique autos. Instead it houses his R44 helicopters. Those choppers move into the Carriage House by first landing on a helio pad on the end of his 200′ dock. A small electrically driven dolly then gently lifts the chopper with operator then guiding the chopper to its proper stall inside this remarkable 4-star carriage house.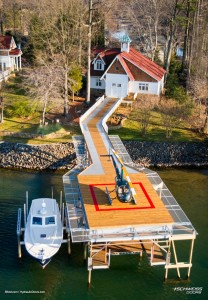 Creative genius and caretaker of this incredible property is Sid Morris, CEO of Morris International, a 4AAAA advertising/marketing organization headquartered in Davidson, NC which does sports marketing for NASCAR, NHRA and other high-profile accounts.
Two Schweiss hydraulic doors, each 10′ wide by 12′ vertical provide access to this remarkable structure. Both the Schweiss doors are designed with French doors on the exterior and cedar interior lining. He also has a mountain hangar fitted with a 40′ x 18′ Schweiss bifold.
"I see the Schweiss guys each year at Oshkosh for the big experimental air show. Plus I see their doors at hangars wherever I go. They make a very good product and we've been very happy with their service. It's the only door I would consider," said Morris.
---
Previous Post Back to List Next Post