For Plane Lovers . . . (Part 11 of a 14 part series)
Schweiss Doors Help Dreams Come True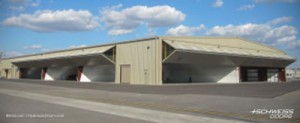 This large California airport took the extra step to fulfill what many had dreamed of for years. He is just one of a few of Schweiss bifold and hydraulic door customers, and Schweiss Doors had a part in making his dream come true.
They're long and sleek — over 60 foot long and stand 21.6 feet tall — big enough to open up for most any corporate prop or jet aircraft. Five Schweiss straplift bifold doors completed a summer order from Continental Design Build in Anaheim, California for new executive steel hangars they were building in Fullerton, California.
"Our metal building erector told us about Schweiss doors and we have seen them installed at other airports. The installation was relatively simple and the instructions are comprehensive and easy to follow. I would recommend them to others" noted Aaron McCoy of Continental Design Build.
These aren't your average run of the mill hangars. They were designed to hold up to numerous aircraft. They are called executive hangars to convey what they are; a larger Class A hangar space. The overall hangar is 40,000 sq. ft. on two acres of land. There are individual hangars ranging in size from 4,000 sq. ft. to 5,300 sq. ft. Each individual hangar can fit up to a 64 ft. clear wingspan. Generally there are two-three aircraft in each hangar and are of varying sizes. There are both single and dual prop aircraft.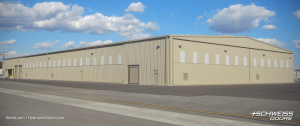 They preferred the overall look of the Schweiss Bifold door and the clean space-efficient design that the liftstrap offers. Thus far they have installed seven Schweiss doors at the first Fullerton Airport facility and eight on the new facility.
All five 21.6 foot bifold doors were custom made to a different width and have a 42" wedge. The largest is a 64 ft. 4," with the others at 63 ft. 1", 63 ft., 60 ft. 4" and 43 ft. 10." All the doors are equipped with patented liftstraps and autolatches.
Five to seven vertical windows consisting of translucent fiberglass panels were placed on each door to admit a lot of natural outside light into the hangar when the door is closed. Man doors were placed on the 63 ft. doors. Three of the larger doors were fitted with remote openers and all had powerful bottom drive motors. Standard Simple Saver insulation; the same put on the rest of the building, was applied to the inside of the doors.
"The Schweiss liftstrap autolatch doors are great because when in the open position they provide a nice overhang, and when in the closed position it is a very clean and space-efficient door. The autolatch on closing and limit switch on opening are great features," noted McCoy. "We installed remote openers as a value-added option for some of our tenants. Those are great because the pilot does not need to exit the aircraft to open the hangar; just a push of the button from the cockpit."
---
Previous Post Back to List Next Post