Schweiss Cylinders and Spherical Bearings give huge advantages
Your hydraulic door is only as good as its components. All Schweiss Hydraulic doors offer you quality and features you can't get in any other door on the market. What we put into these custom made doors are features you won't find on other doors on the market.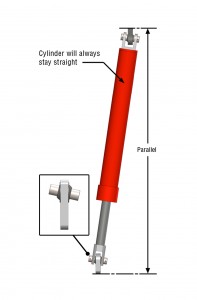 Cylinders: Schweiss door cylinders are built stronger. Two powerful cylinders carry the entire weight of the door and raise and lower it. Schweiss includes detailed specs with each door that provide the weights and forces. You won't see our large cylinders bend, bow or break like others who seem to prefer to make their door cylinders and cylinder connections using a poorly designed and cheaper option. Door cylinders and cylinder plates attach to sub- frame vertical members for additional strength. They ensure a weathertight seal so your building won't lose heat or air conditioning. The hydraulic cylinders will lift your door evenly at all times, with no adjustments needed. There are no cables, clamps or pulleys to deal with. Cylinders are the most important component of your hydraulic door. In order to hold your door in all positions they must be built strong. Our cylinder tubes and rods are sized larger to hold the door weights. Our industrial rated cylinder seal kits are the best on the market. Watch out for smaller inferior cylinders with smaller tube and rod sizes offered by others. Our cylinders insides have cast iron/steel components, not aluminum. Our special soft shift valve provides a soft start and stop. When you activate the door, the valve starts moving the door gradually for smooth operation.
Spherical Bearings: Spherical bearings are something no other manufacturer puts into their doors. This unique feature is the perfect answer to a stronger and longer lasting door. You won't see our cylinders bend or break because these bearings won't allow it. They are located between the teardrop area and cylinder plate at each end of the doors lifting and closing power cylinders. Others seem to prefer to make their doors, cylinders and cylinder connections using a poorly designed and cheaper option. Spherical bearings are used in countless applications ranging from engines, driveshafts to heavy machinery wherever rotational motion must be allowed to change the alignment of its axis. That's why they are the perfect addition to all Schweiss hydraulic doors.
Previous Post Back to List Next Post