THE


SCHWEISS
ADVANTAGE
FOUR
REASONS

TO BUY A HYDRAULIC DOOR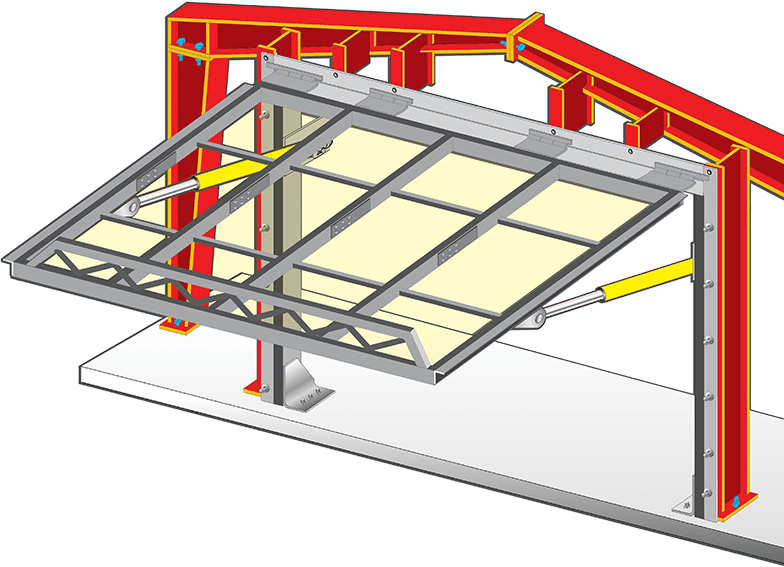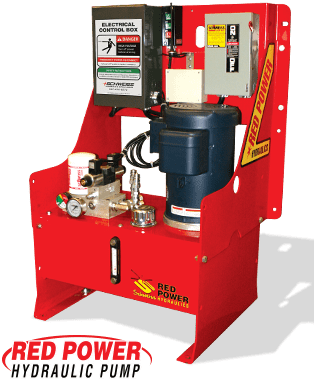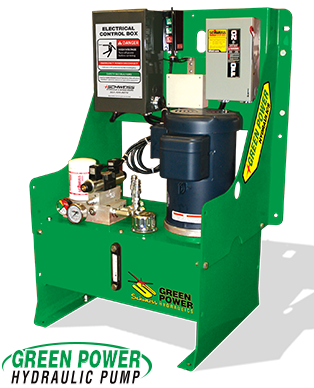 1
2
3
4
GAIN HEADROOM
LOSE NO HEADROOM...
With the purchase of a Schweiss One Piece® Hydraulic Door...
Only 5" headroom required.
LESS MOVING PARTS
Three Major Components of the Hydraulic Door
One-Piece Doorframe
Two Powerful Hydraulic Cylinders
Red / Green Power Hydraulic Pump
COSTS LESS
How to save Money...
Lowering the overall building height will save you $$$.
Building does not have to be made taller to maximize your clear opening.
With the low headroom "One-Piece" hydraulic door you are able to save on building costs.
Building Costs will be less... Why?
Lower sidewall requirement
Less insulation
Less sheeting
Less labor
EXTRA SHADE
Extended Shade Area
Keeps the area in front of your building's door entryway shaded and dry.
Keeps rain and snow out of entryway.
Allows fresh air in and extends shade at the same time.
Open door creates a canopy to extend the shaded area of your building's door entryway.
STANDARD ON ALL SCHWEISS HYDRAULIC DOORS
Schweiss Hydraulic doors are pre-assembled, pre-welded and delivered prehung within its frame for ease of installation.
Each Door comes prehung with its own subframe; more details below.
SUBFRAME INCLUDES:
Horizontal member that attaches to your building
Vertical member that supports the cylinders and attaches to your building
Heavy-Duty Hinges
One-Piece doorframe
HORIZONTAL MEMBER
Hydraulic door comes with a frame, the horizontal subframe member comes full width of the building's clear opening
Horizontal continuous tubular member - has pre-drilled bolt holes for easy installation to the building structure's
stub columns or a continuous header supplied by the building company.
Horizontal continuous tubular members are pre-welded to the vertical subframe members that the hydraulic cylinders attach to.
Heavy-duty hinges are pre-welded to the doorframe & horizontal continuous member for ease of installation.
VERTICAL MEMBERS SUPPORT THE CYLINDER PLATE AND CYLINDERS
Subframe vertical members are pre-welded to the horizontal continuous tubular member.
Vertical members... the door cylinders and cylinder-plates attach to subframe vertical members.
ADDED STRENGTH
Schweiss offers multiple sizes of horizontal and vertical subframe members where
additional strength is required on your existing building for added strength!

HEADROOM
Gaining more headroom, only 5" required.
NEAT, CLEAN DESIGN
Two Hydraulic Cylinders, "One-Piece" doorframe and an electric hydraulic pump.
FEWER MOVING PARTS
Two Hydraulic Cylinders raise and lower the "One-Piece" doorframe.
SPEED
Fast-moving doors open in as little as 30 seconds.
AUTO LATCHES
Built-in...both cylinders lock the door in tight.
WEATHERTIGHT SEAL
Your building won't lose heat.
EASY INSTALLATION
Installation Manuals with each door.
WARRANTY
7-year, unlike any other.
QUALITY
Best components money can buy.
DESIGNERS / BUILDERS / CONTRACTORS
Save on building costs with a Schweiss Hydraulic Door
Lower the height of the building requirement. Easy to install.
The Door Styles H&M
Are pre-assembled,
Come pre-welded,
And are delivered prehung within its subframe for ease of installation.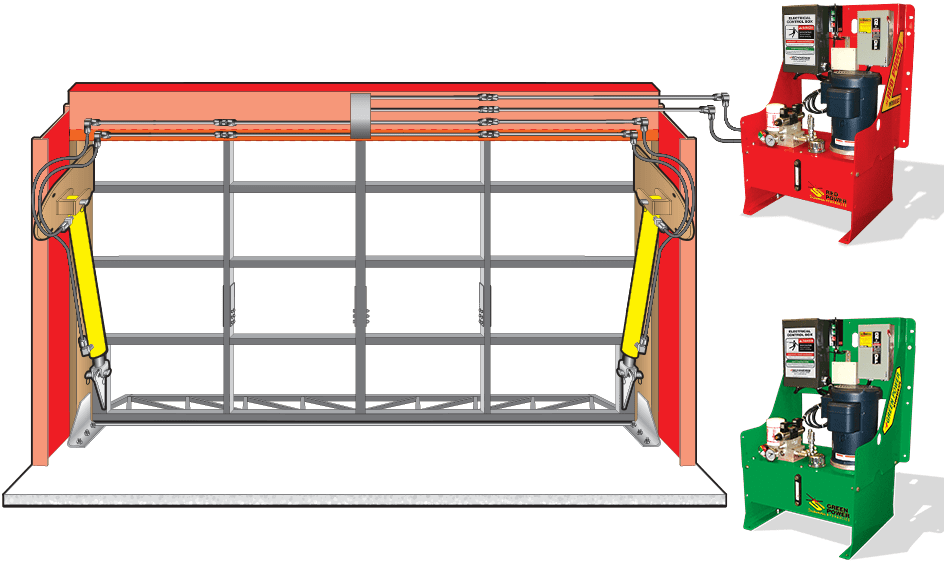 Red Power
or
Green Power
LOOK FOR QUALITY, LOOK FOR PRICE, YOU WILL BUY SCHWEISS!